Hotel Minsk is the first hotel in Minsk with the class of 4 stars. It is situated just in the center of the Belarusian capital and it takes you only ten minutes to get to the Railway station and the main range of the places of interests. There are 252 rooms, including deluxe rooms, three-room apartments and a magnificent VIP Suite. The hotel meets the requirements of the most exquisite guests. Each room is equipped with modern devices and has everything necessary for fruitful work and proper rest. A guest can order and enjoy the following services: room service, left luggage office, laundry and clothes delivery to the dry-cleaner\'s, the restaurants «Minsk» and «Sedmoe nebo» (the restaurant «The Seventh Heaven»), bars, conference services, fitness center, business center, beauty salon, casino «Roya», services of car hiring and rental. We hope that these services will make your stay at the Hotel Minsk the most convenient and enjoyable. Let the Hotel Minsk become the first place to visit in Minsk.




Two modern restaurants are opened at the Hotel Minsk: the restaurant «Minsk» (up to 90 seats) and the restaurant «the Seventh Heaven» (up to 200 seats). The restaurant «Minsk» offers its guests a breakfast as a self-service buffet and business lunches during the daytime. The main menu of the restaurants has the range of original cuisine, national Belarusian and European cuisines.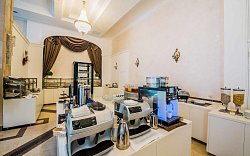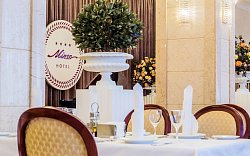 A 30% discount is provided for accommodation at the Hotel for guests with check-in and check-out on the same date and stays up to 12 hours from 06:00 to 24:00.

It's a special rate with a discount up to 35% for anyone celebrating their birthday.
It's a special rate for a newly married couple with a discount up to 40%.